3TEMP – Design and Quality Made in Sweden

Discover the essence of Swedish design and functionality with 3TEMP. Our all-round filter brewers are renowned for their exceptional quality, innovative design, and advanced technology, setting them apart from the rest.

We are driven by our passion to shape the future of coffee culture worldwide. Join us on this journey as we serve our clients and continue to develop groundbreaking solutions that cater to the evolving needs of the coffee industry. Immerse yourself in the joy of Swedish design and functionality, whether you're in an office, café, restaurant, or any space where exceptional taste is a necessity.
Quality in Cup
Elevate your brewing experience with the 3TEMP all-round filter brewer. Crafted with precision, this brewer offers an array of features designed to enhance your coffee journey. Its sleek design and tank-less construction provide three temperature settings for bloom, extraction, and the end phase, enabling you to tailor your brew to perfection. Moreover, our batch brewer boasts cold-brew functionality and an IoT connection, granting you remote control and monitoring capabilities.
Not only does the 3TEMP batch brewer deliver advanced features, but it also offers complete customization of your brewing profile, allowing you to adapt it to your unique blend. With the ability to create and save multiple profiles, our brewer guarantees consistency and unparalleled quality in every brew.
When you choose a 3TEMP brewer, be assured that we've considered every detail to provide you with the utmost brewing experience. With a variety of sizes and styles available, you can find the perfect fit to meet your business needs. Opt for a 3TEMP brewer when quality is of utmost importance – Choose Quality in Cup.
THE STORY OF 3TEMP
Through relentless innovation, we've crafted state-of-the-art machines that offer exceptional quality, versatility, and user-friendliness. At 3TEMP, we are driven by our commitment to enhancing your coffee experience and raising the bar for excellence.
The tale of 3TEMP began in 2013, as a rapidly growing company with a vision to revolutionize the coffee industry. Nestled in Arvika, Sweden, we have earned our reputation as a leading manufacturer of specialty coffee equipment.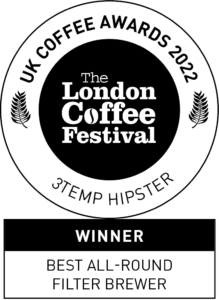 BRING A WINNING PLAYER TO YOUR TEAM
Welcome to the winner's circle! 3TEMP proudly received the prestigious title of "Best All-Round Filter Brewer" at The London Coffee Festival 2022.
Our filter brewers outshone the competition, impressing the judges with their remarkable performance and embodying the essence of Swedish design and functionality. This recognition is a testament to our unwavering dedication to creating outstanding products that surpass expectations.
COMPETITION "BATCH BREW WITH 3TEMP"
Join the competition and experience the magic of brewing with 3TEMP. At the London Coffee Masters, participants had the opportunity to earn valuable bonus points in the brewing discipline by skillfully brewing a small batch of their chosen coffee using the 3TEMP PULS. The audience savored their creations, further highlighting the excellence of our brewers.
Embrace excellence, innovation, and the pursuit of perfection – bring a winning player, 3TEMP, to your team.