10 January 2023
3TEMP – Coldbrew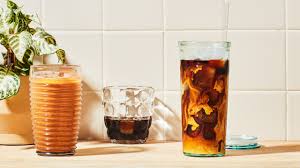 3TEMP – Coldbrew
Although the market for cold-brew coffee can sometimes be a little more complex to navigate than the market for roasted coffee, it is still an area with huge potential. As a category currently expected to grow at an annual growth rate of 32.5% until 2026, it is an area where a bit of innovation and ingenuity could have a sizable impact on its future.
Although the process to make it can involve more steps when compared with hot coffee, a cold brew can act as a solid foundational and accessible option on any speciality coffee menu—ideal for those hot summer days which are becoming a little more common in our current era. As well as providing some welcome temperature-based benefits for those customers who aren't sure about the more nuanced and often more expensive premium filter options, an excellent cold brew coffee can help to introduce many 'newbie' coffee customers to the vast array of flavours that speciality coffee offers whilst remaining simple to brew and serve.
With the expected increased demand for cold brew coffee on its way, it is perhaps fitting that there is now a far more effective and efficient way to brew it, introducing the 3TEMP.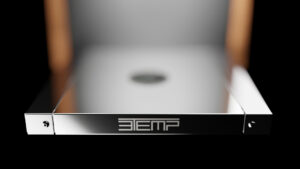 Since 2019, all of the Hipster machines available from 3TEMP have included a unique cold brewing feature through a firmware upgrade, offering enhanced functionality to the user whilst retaining all the same benefits relevant to brew control and sustainability. To help minimise water and coffee wastage, users can brew a single cup (200ml) or an entire multi-litre batch (3.8l) in a time far shorter than a traditional cold brew. While the latter can take 12 or even up to 24 hours (and this is before the filtering and storage requirements), just 20 minutes is needed to brew 3.8 litres on a 3TEMP or one hour for 18 litres. This has enormous potential time-saving benefits for a busy speciality coffee shop, where an effective system is critical for success. It is efficient processes like these which can help provide the flexibility that is useful when there is a varying level of demand or when multiple barista hands aren't so readily available.
From a design perspective, it is vital to note that the 3TEMP has no large boiler or reservoir for heating the water built into the machine. Featuring a tankless design, the brewer uses the exact amount of water needed with fresh water being introduced into the system for every brew. A nice side benefit of this is that no excess water needs to be dumped out at the end of every day. Notably, limescale is also reduced resulting in a longer-lasting machine—good for the environment and great for the taste. Contrastingly, if water is kept in a tank, it can lose its mineral and oxygen content over time, which can completely change a coffee's flavour profile, and not for the better. To achieve this much more economical process, the brewer uses a flash heating system with a thermocoil. This design allows cool, fresh water to be sent straight to the coffee without any heating, thus creating a simple but effective system for brewing cold brew when needed.
3TEMP's patented solution is also worth a mention from an energy perspective. When not active, it only requires 3.7 watts of idle power per hour compared to 30 watts for competing brewers—another nod to the sustainability aspects that are increasingly important today. As good quality coffee shops become more commonplace, being aware of energy consumption from an equipment perspective is crucial to how we can do our part for a more sustainable future. Due to no need for storing water at a set temperature, with the 3TEMP, the difference saved in carbon dioxide emissions is the same as driving a petrol-powered car for 54,852 miles or charging 2,688,085 smartphones. This, of course, results in a sizable saving when it comes to the monetary energy costs for a coffee shop operator.
Since its inception, the engineering team behind the 3TEMP have focused on the fine details of how and why things work to find the best ways to do something and yield the best quality results. An example of this concerns the components chosen for production, with durability being a key consideration. For example, incorporating a brushless pump offers a longer lifespan, increased efficiency and higher reliability. With fewer moving parts being used and replacements available if needed directly from the supplier, users can spend less time fixing problems and more time serving delicious coffee to their customers. Unlike some concentrated cold brew options (often done from a box), which can come with excessive packaging and quality issues, the 3TEMP saves on the raw materials and resources needed to produce them and is a lighter and more compact machine meaning fewer emissions are involved in its transportation.
While being able to offer scale simply is a critical aspect for a batch filter brewer, achieving the right level of quality and consistency in the cup in the first place is another matter. Coffee is complex, and if it isn't brewed with this in mind, many potential flavours and experiences could be lost. Notably, it is essential to have a simplified way to control the brewing process but with all of the detail and nuance needed to get to the best results flavour-wise. To achieve this, a profiling system is included with the 3TEMP's system that provides complete user control using custom profiling controls. A pre-brew or blooming phase, main extraction phase and end draw-down phase can all be customised alongside the pressure and temperature, helping to offer the brewer peace of mind that they are getting the best out of their beans that day. With innovations like these, perhaps it is time to move on from automated filter brewing and induction heating plates and move into the age of profile brewing, like with espresso. Aside from the precise control, durability, and multi-functionality that the 3TEMP offers, it is interesting to mention that it is also IoT (Internet of Things) enabled, which users can use through a BaaS (Brewer as a Service) subscription. Aside from maintenance and servicing benefits, here, users can access a curated library of recipes and receive further support if required. It is by incorporating technology in this way which can help to reduce complexity and increase accessibility in an industry that can sometimes be overly confusing and convoluted.
In the end, it will be through connecting the dots between stakeholders in the coffee value chain that will help to demystify complexity and create value more effectively in the future.
How can the process of speciality coffee brewing be simplified but enhanced?
How can reduced costs on materials, energy and time be put to better use?
With more brewers like the 3TEMP becoming available in the speciality coffee market, we may soon have better answers to the previous questions to help benefit the global industry and introduce more people to what speciality coffee can genuinely offer.